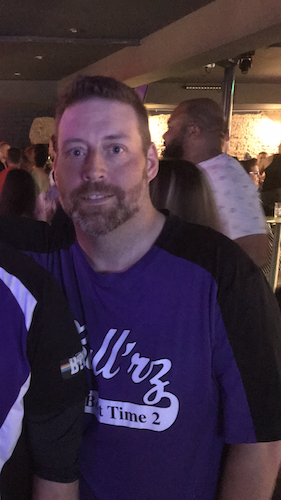 Candidate for Membership
1. What is it about the Board position you would like to hold that most interested you in running for office?
Since moving to Austin two years ago, Softball Austin has been an amazing source of fun, friendships, and activity, and a great way to help me make a home in a new city. Everyone has been so welcoming, from my own team (The BT2 Ball'rz - D) to so many players on so many other teams and in all divisions that I'm fortunate to now count among my friends. Having been at every recruitment day event since I joined Softball Austin, and while talking about softball with other people I meet across Austin, I'm always surprised at how few people know our league exists - and how many know it exists but think they won't fit in. I want to help grow our league by raising awareness of Softball Austin, help people who feel hesitant about joining feel more comfortable giving it a shot, and ultimately help add even more great people to this league that I have found a home in these past two years.
2. How will you contribute to the Board as a whole if elected?
My background is in management, sales, marketing and PR, and government relations. Not only am I able to effectively recruit new members, but I am happy to help with any other projects the board wishes to undertake. I am very familiar working on committees and with bylaws, I'm able to assist with marketing campaigns, email and social media outreach, web and graphic design, event planning, fundraising, and more. All volunteer boards must rely on each other - just like teamwork in softball. I would be happy to be part of the team that gets to grow Softball Austin and continue to find ways to make the league better for everyone.
3. Please list other volunteer commitments you have at this time.
I have no other volunteer commitments at this time, and have plenty of free time to devote to Softball Austin.
Summarize your experience with Softball Austin.
I began attending games in April 2017 when I moved here, knowing that I would be joining the league in the fall. I attended the recruitment day event in September 2017 and was drafted by the BT2 Ball'rz - D. I played until April 2018, when I was sidelined with surgery for a completely torn quad. I returned five months later for practices, and I helped my team's manager recruit additional players for the fall season. I returned to games in November 2018 and have played since. Discounting the remainder of the 2018 season after my surgery, I have only missed two practices, one week of games, and a handful of After Innings events in my entire time in Softball Austin - including tournaments.
This spring season I helped recruit players for both our D and E teams, and have attended E team practices to help out however I can.
What skills and knowledge are you willing to bring to our Board?
Planning: Very Experienced
Fundraising: Very Experienced
Program planning and evaluation: Very Experienced
Recruiting, hiring and evaluating personnel: Very Experienced
Financial management and control (budgeting, accounting): Very Experienced
Communication, public and media relations: Very Experienced
Public speaking: Very Experienced
Information technology: Little or No Experience
Writing, journalism: Very Experienced
Special events (planning and implementing): Very Experienced
[List other skills, knowledge needed by your board]:
Marketing/Digital Marketing: Very Experienced
Web/Graphic Design: Very Experienced
Grassroots Organizing: Very Experienced
For the items you checked as "very experienced" or "some experience", please provide details.
For the last decade I have worked with political candidates, organizations, non-profits, and advocacy groups as a staffer, manager, membership director, president, and now consultant. Over this time I have had extensive experience with program and event planning, fundraising, recruiting personnel, communications, PR, digital marketing, web/graphic design, and grassroots organizing, as well as various systems used to accomplish these tasks. I have recruited thousands of volunteers and donors, as well as hundreds of interns over the course of that time. I know this experience will help me succeed as membership coordinator with Softball Austin.
I am also very experienced in financial management and budgeting/accounting. Prior to moving to Austin I was the Deputy Treasurer for the State of Nevada, overseeing $900 million in liquid, physical, and securities assets for the state's Unclaimed Property Division.
Please attach a resume or provide a bio of your work experience, highlighting volunteer work.
My professional career began in the restaurant industry where I learned the value of hard work. I advanced from server to restaurant manager by the time I was 19 years old. After about 8 years in the restaurant industry I went to work for AT&T, in sales. I went from a sales rep to a district sales manager in just 16 months, and over 7 years consistently finished in the top 5% for my position company-wide. After AT&T I went back to school at the University of Nevada - Las Vegas, where I grew a student organization from 33 members to over 800 in just one year. I successfully ran for student body president, twice, and doubled the size of student government while reducing our budget (and the student fee for student government) by 20%.
While in school I served on almost every university committee, helped many students and student organizations with a variety of projects and issues, and continued to work full-time as a political staffer, campaign manager, and eventually consultant. I also volunteered at the LGBT center in Las Vegas, as well as with the Southern Nevada Pug Rescue where I adopted three pugs including my current buddy - Agent Jack Bauer.
In 2016 when politics went haywire with the nomination of Donald Trump, I left politics and took a position with the State of Nevada as Deputy Treasurer. While there I decided it was time to move to Austin - so I gave my notice, sold my house, put the pug in the car, and here I am. Being in a new city, I enjoy the flexibility of being self-employed as a marketing consultant which allows me to be part of a few LGBT leagues including Softball Austin and Pride Bowling ATX.
---