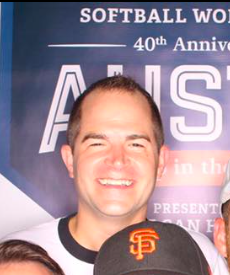 Candidate for Competition Coordinator
1. What is it about the Board position you would like to hold that most interested you in running for office?
I think the Competition Coordinator position has a very direct impact on the enjoyment of the players of the league. Consistent, organized games help each player enjoy the most out of their time with Softball Austin.
2. How will you contribute to the Board as a whole if elected?
I will bring my many years of experience in various NAGAAA leagues to help make our Board run as efficiently as possible. I have been a board member in two other leagues in NAGAAA and have served in almost every position possible.
3. Please list other volunteer commitments you have at this time.
I currently volunteer with an organization through my company called AHAwake which works locally with the Austin Boys and Girls Club. Typically these volunteer commitments are completed during the work day so it would not interfere with my duties in Softball Austin.
Summarize your experience with Softball Austin.
I have been a player in Softball Austin since Fall 2016 as a member of the Austin Octane (D Division). This year I have been a manager of the team. I have also attended the GSWS in 2017 with the Austin Blaze where we earned 4th place.
What skills and knowledge are you willing to bring to our Board?
Planning: Very Experienced
Fundraising: Some Experience
Program planning and evaluation: Very Experienced
Recruiting, hiring and evaluating personnel: Very Experienced
Financial management and control (budgeting, accounting): Some Experience
Communication, public and media relations: Very Experienced
Public speaking: Very Experienced
Information technology: Some Experience
Writing, journalism: Very Experienced
Special events (planning and implementing): Very Experienced
[List other skills, knowledge needed by your board]:
Scheduling: Very Experienced
For the items you checked as "very experienced" or "some experience", please provide details.
Having served as Commissioner (DC), Assistant Commissioner (Atlanta), Secretary (Atlanta), Tournament Director (DC), Webmaster (Atlanta, DC), and Ratings Committee (Atlanta and DC), I have gained valuable experience in many areas.
As Assistant Commissioner of the Hotlanta Softball League, I was responsible for player ratings as well as scheduling of all games. As Secretary of the Hotlanta Softball League (ATL), I was responsible for all league communication, community services opportunities, and community outreach. As Commissioner of the Chesapeake And Potomac Softball League (DC), I was responsible for organizing Board Meetings, reviewing financials, and representing the league to the public. As Tournament Director for MAGIC (DC Tournament), I was responsible for getting sponsorships, scheduling, field coordination, recruitment of teams, and much more.
I will bring all of these experiences to the Softball Austin Board if elected.
Please attach a resume or provide a bio of your work experience, highlighting volunteer work.
In my professional life, I work as a Regional Director for a real estate development company. My duties include budgeting, personnel management, marketing, and much more.
In experience in NAGAAA softball started in 2007 as a player and manager for the Atlanta Angels. The following year, I started a team called the Atlanta Crimpers Razors with several friends. After three years, I started a new team called the Atlanta Titans, which just celebrated their 10th season in the Hotlanta Softball League. I continue to travel with them to tournaments. In 2014, I moved to Washington, DC and started a team called the DC Titans which went undefeated and earned a berth to the GSWS in our first season. I continue to travel with the DC Titans to various tournaments across the country. I helped coach them to a 2nd place win the GSWS here in Austin in 2016. As a player I have been lucky enough to attend the GSWS in 2013, 2014, 2015, 2016, and 2017.
I also have felt obligated to give back by serving on various committees and Boards. In 2009, I was elected Secretary for the Hotlanta Softball League. During my time as Secretary, I spearheaded our conversion to LeagueApps and started our philanthropic efforts creating a strong partnership with various local non-profits. In 2012, I was elected Assistant Commissioner Open Division. During my tenure, I was responsible for the scheduling of all teams in the league. As we watched our Women's Division begin to dwindle, we merged the two divisions and I was responsible for assisting all of the women's team rating their players to be in accordance with the NAGAAA rating system. During my time on the Board, HSL successfully became a 501(C)3 non-profit organization. After moving to DC in 2014, the CAPS Board asked me to serve as webmaster as they converted over to LeagueApps and also on the Open Ratings Committee. The following year, the asked me to serve as MAGIC Tournament Director. For the first time ever, MAGIC received sponsorship from 5 local bars and coordinated NIGHT OUT at the Washington Nationals Game, a tradition that continues still. In 2015 I was elected as Commissioner of CAPS. During my time on these boards, I also represented both Atlanta and DC at NAGAAA meetings and served on various committees including Ratings and Finance.
I think all my experiences within different NAGAAA leagues as well as my professional experience will help me serve the Softball Austin Board and league members.
---