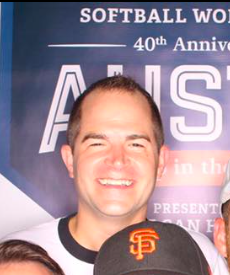 Candidate for Public Relations/Social/Fundraising Coordinator
1. What is it about the Board position you would like to hold that most interested you in running for office?
With everything going on this year, the position of Public Relations is more important than ever. I am interested in the position of Public Relations because I think by expanding Softball Austin's visibility within the LGBT community as well as throughout the City itself, we can help make everyone's life normal again once the COVID-19 crisis is over. I would like to create new events that our members are excited to attend, bring back past events like What-A-Drag and expand on events like Extra Innings.
2. How will you contribute to the Board as a whole if elected?
My experience serving on the boards of two other leagues will contribute to the success of the Board as a whole.
I started playing NAGAAA softball in 2007 in the Hotlanta Softball League, in 2009 I became Secretary of HSL and served in that position until 2013. My duties in that role were very similar to the role of Public Relations - event promotions, spokesperson for the league, etc. In 2013, I became Assistant Commissioner of HSL and served a year in that role as we expanded the league.
I moved to Washington DC in 2014 and joined CAPS (Chesapeake And Potomac Softball). I served as Webmaster as the league transitioned to the LeagueApps platform (which Softball Austin also uses). The following year I served as Tournament Director of the MAGIC Tournament and had the largest number of teams in over 5 years, planned more events than had ever been held during the tournament weekend, and also raised more money through sponsorships than had ever been raised before.
I have also served on ratings committees for both HSL, CAPS and now for Softball Austin. I also served as NAGAAA Delegate for HSL and CAPS. I would be able to bring all of these experiences to help the Softball Austin Board in multiple ways.
3. Please list other volunteer commitments you have at this time.
I currently serve as the Vice President of my HOA.
I currently serve a Committee Chair for AH Awake, a non-profit organization that focuses on education and outreach to students in Rwanda. This organization works in tandem with the real estate development company that I work for, Aspen Heights.
Summarize your experience with Softball Austin.
I joined Softball Austin in Fall 2016 and have played every season since moving here. I played with Austin Octane every season until Spring 2020, when I helped merge two D teams and create Remix D and Remix E. Additionally, I have served as Manager of both Octane and Remix D/E. I also serve on the Ratings Committee this year. I have also brought multiple IOG amendments to the league that have been approved.
What skills and knowledge are you willing to bring to our Board?
Planning: Very Experienced
Fundraising: Very Experienced
Program planning and evaluation: Very Experienced
Recruiting, hiring and evaluating personnel: Very Experienced
Financial management and control (budgeting, accounting): Very Experienced
Communication, public and media relations: Very Experienced
Public speaking: Very Experienced
Information technology: Some Experience
Writing, journalism: Very Experienced
Special events (planning and implementing): Very Experienced
[List other skills, knowledge needed by your board]:
NAGAAA Ratings: Very Experienced
Sponsorship Recruitment: Very Experienced
Community Service / Charity Work: Very Experienced
For the items you checked as "very experienced" or "some experience", please provide details.
My past experience, through my professional experience as well as my experience with various softball leagues, has given me ample experienced that will be utilized as a Board Member of Softball Austin.
As the manager of multiple softball teams over the years, I have worked to raise money through many different events. My Atlanta team has been hosting their "Bowling | Beer | Boys" for over 10 years which started my first year as manager. While a Board member of HSL, I created new events which helped raised money for the league charity each year. I have planned, executed and evaluation programs such as Mr & Ms HSL, Fall Ball, Extra Innings, and multiple Beer Busts for my teams. I was responsible for transition both Hotlanta Softball League and CAPS over to the LeagueApps system.
I also serve as Vice President of my HOA where I am responsible for financials, project management, and public relations.
In my professional experience, I am responsible for many of these activities. I am responsible for recruiting, hiring and evaluating personnel and oversee roughly 75 employees throughout the country. Additionally, I am responsible for the operations for multiple divisions generating over $20million annually. I also work with our non-profit AH Awake promoting the organization to our employees throughout the country and facilitating multiple programs.
I hold a BA in English and a BA in Communications. Throughout High School, College and my professional career I am required to write articles, press releases, and also give speeches to large and small groups.
Please attach a resume or provide a bio of your work experience, highlighting volunteer work.
I currently serve as Vice President of the Brentwood Villas Homeowners Association, where I was the first homeowner elected to the Board after Development.
In my volunteer work for AH Awake, last year I traveled to Rwanda to promote the organization and represent fellow members. I led training seminars for 200 Rwandan University students and taught customer service, leadership and other business practices. I also led trainings with 25 female entrepreneurs teaching them about financial management and business plans. I also serve as the Awake Ambassador Liaison, where I oversee representatives to the 30 local divisions. Each one of these divisions conduct local fundraising, events, and community service projects.
---