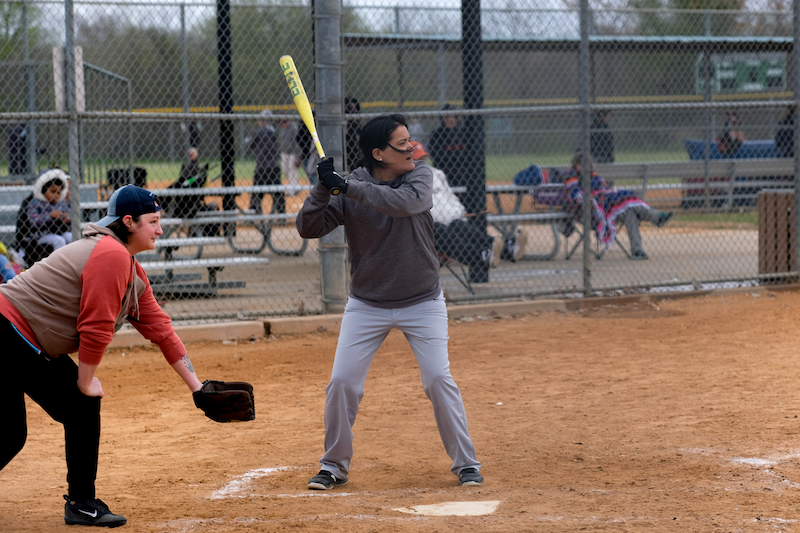 Candidate for Women's Assistant Commissioner
1. What is it about the Board position you would like to hold that most interested you in running for office?
I joined Softball Austin in 2004 to find community. I started Softball Austin's Women's Division in 2007 to build and grow our community. The world has changed, and the community has changed but what hasn't changed is our love of softball and our desire to enjoy and share what we love with friends, family, and allies. Let's play ball!
The Assistant Women's Division Commissioner positions offers an interesting opportunity in helping ensure we have a voice in our local league and national organization (ASANA) but also that we have a voice in our Austin community. Our league, division, and our Texas Shootout tournament help grow that awareness and community and I want to continue that.
2. How will you contribute to the Board as a whole if elected?
Here to get it done

The pandemic prevented us from having a 2020 season. Due to weather 2021 season start has been a wash but let me tell you how proud I am of the work myself and the current board have done to get fields secured get a season opened and ready to start. It has been a lot of work, calls and emails. Trust that if Mother Nature had a phone every board member would be on the phone with her to negotiate and get this season started, including myself (speed dial). My skills and experience have allowed me to play an important role in helping this board get through one of the most challenging times. I'm invested. I'm in. I do it because it is important to me, and I am proud to have it available for all. Let's do this!

Communication

Because Softball Austin belongs to two national organizations (NAGAAA & ASANA) it is important to that I, as Women's Division Assistant Commissioner, ensure that our processes and communication are clear in what is happening at the national level and clear in the details and processes of Softball Austin at the local level. At the end of the day, we are a recreational sports league. We need to be communicating transparently to our teams and members and ensuring that everyone is understanding of what is going on, where they can find that information or answering their questions and establish unified processes to help the league run efficiently

Identity

The Women's Division should come together and determine what are the things that are most important as a division and make sure that they are acting on those items throughout the year. Is more bids a want of the division? If so, then what are the steps the division needs to take to ensure those bids are available? Do we want to bring in more players? What are events the division can host to help recruit? At the end of the day, it's easy to say "I want that" to everything but because this is a volunteer organization, we as a division should meet, decide, and use that to form an identity and direction for the division for future seasons.

Community

I love Softball Austin. I have made numerous friends because of the league. I spent my own time and money starting the Women's Division to continue to grow this community. As the Women's Division evolves, I'd like to ensure that it supports and helps grow the league's community for our players, fans, friends, and allies.
3. Please list other volunteer commitments you have at this time.
I also currently serve as the sponsorship chair for the AGBL.
Summarize your experience with Softball Austin.
In 2004, I joined the Softball Austin community. In 2005 with two friends (who have since headed off to other cities and leagues) I started Los Tigres which is currently the longest returning team in our league, yes we are on the schedule. In 2007, I pitched to our board that we needed a women's division and it worked and we joined ASANA and added a new division to our league, bringing more friends and allies, growing our community. I served as the Women's Division Liaison for five years (prior to the Women's Division Assistant Commissioner position being created) and I have served on the board as Public Relations Coordinator for six years. I've been a member of Softball Austin for 17 years. That's crazy to type but I'm here because I have loved it, and here I am 2021, ready to play ball, see old friends, make new friends, and play softball until my knees fall off.
What skills and knowledge are you willing to bring to our Board?
Planning: Very Experienced
Fundraising: Very Experienced
Program planning and evaluation: Very Experienced
Recruiting, hiring and evaluating personnel: Very Experienced
Financial management and control (budgeting, accounting): Very Experienced
Communication, public and media relations: Very Experienced
Public speaking: Very Experienced
Information technology: Very Experienced
Writing, journalism: Very Experienced
Special events (planning and implementing): Very Experienced
For the items you checked as "very experienced" or "some experience", please provide details.

I am a journalism major from the University of Texas (Hook'Em!). I work professionally as a project manager. Additionally, I have served on the Softball board in a direct capacity for over 10 years. I have been tournament director for the first and five additional Women's Division Texas Shootout tournaments.
Please summarize or provide a bio of your work experience, highlighting volunteer work.
Currently serving on ASANA's FATO Committee (Ratings-National)
Currently serving on ASANA's IOG Committee (Bylaws-National)
Currently serving on Softball Austin's Division Ratings Committee
Currently serving on Softball Austin's Awards Committee
Currently serving on the board for the Austin Gay Basketball League
A certified PMP and serve as a Senior Project Manager
Inducted into the ASANA Hall of Fame in 2018
Inducted into the Softball Austin Hall of Fame in 2019
---