Want to nominate a player? Email halloffame@softballaustin.org for more information or fill out this form.
Years: 2015 | 2016 | 2017 | 2018 | 2019
2019 Hall of Fame Inductees
---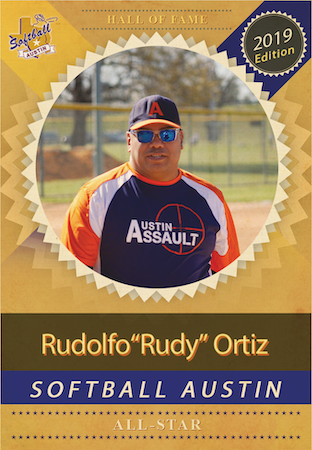 Rudolfo "Rudy" Ortiz - 2019
Rudy joined the spring 2005 as a player with the original Austin Ballbusters coached by Scott Mogonye. The team changed their name to Austin Force. After a year with Austin Force team, Rudy joined Austin Chaos D team in the spring 2006 for one year and moved to San Diego in July 2007. In San Diego, Rudy played for the San Diego Dragons for one year before returning back home to Austin. He returned to Softball Austin league to start his first coaching season with the Rusty Spurs (D Division) in the fall 2008 with Roy Duran as manager and rejoined Austin Chaos (C team) with Rene Trevino, Manager
Upon his return to Softball Austin, the league created a new board position, Membership Coordinator to help increase membership. Rudy was asked to serve the position and accepted. Former commissioner Richard Benavidez appointed Rudy for the position with the Council approval. In the absence of Chaos Manager, Rudy was asked to manage the team and assist with coaching while serving on the board. Rudy continued to serve as Membership Coordinator until elected assistant commissioner. Shortly afterwards, he was elected commissioner. In addition to serving on the board, Rudy served and chaired on various league committees (Texas Shootout Tournament, By-Laws and Rules Committee, Ethics Committee, Protest Committee, Player Ratings Committee, Finance Committee, GSWS Bid Committee). Rudy resigned as commissioner after one year to become the primary caretaker of his ill father whom was battling cancer.
Upon his return to Softball Austin in the Fall 2011, Rudy formed Austin Assault (C Division) as manager and head coach with Sam Khabbaz, assistant coach. With great competitive teams came comes great responsibilities of success. Louie Barrientos, Ron Brown, Ray Gaona, and James Clark would become assistant coaches that help Rudy lead Assault to several winning seasons and several tournament trophies. In the fall 2013, Rudy was asked to create a D Division team whereas D players would eventually move up to play with the C team. With the assistance of Clarence Myers as assistant manager and Rudy as Head Coach/Head Manager, Austin Assault'D (D Division) was formed. The team has had successful winning seasons and won several league and tournament trophies. After 12 years with Softball Austin league and one year with America's Finest City Softball League, Rudy is now a fan of Softball Austin, as he will now enjoy many years of watching friends playing the game he so much loved and enjoyed. A special thank you to all the assistant coaches, assistant managers, and players that I have coached and/or had the opportunity to play in the league and tournaments across America.
And to the all the softball friends, both league and all over the U.S., thank you for the wonderful memories, so many drinks, crazy nights, Smell What A Dollar Gets You! moments, shared trophies, the hilarious long road trips, but most of all, your friendship. Thank you for an amazing journey! Thank you to all the sponsors whom have so graciously always supported all the teams that I have.
---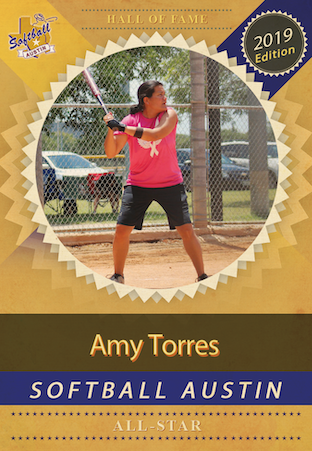 Amy Torres - 2019
Amy joined Softball Austin in 2005, playing with the division winning MPS Closers as a pickup from Draft Day. She met an amazing group of friends and teammates and they formed Los Tigres in the Fall of 2005 and have kept the team in the league, the longest running team, of over 14 years. She was a pickup on a team attending the NAGAAA World Series in Phoenix where she learned of ASANA and the Women's Division. Upon her return she worked tirelessly to create the Women's Division with her flagship team the Austin Angels, who have attended every World Series since 2007. She served on the Softball Austin board for six year as the PR Coordinator and made a return to the board in 2019 as the Softball Austin Women's Division Assistant Commissioner. She is always available to play, help or champion for sports. It has been endless hours but the reward of getting to play, seeing her friends play and celebrating victories no matter how big or small is what continues to drive her passion for softball, Softball Austin NAGAAA and ASANA.
---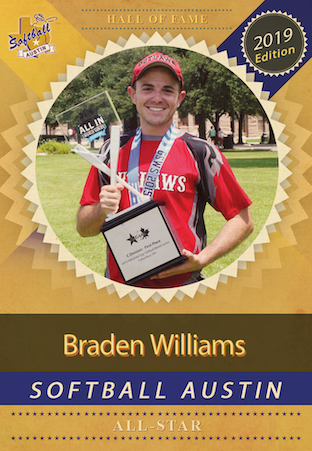 Braden Williams - 2019

Braden discovered Softball Austin in the Fall of 2013 after playing years of city ball between Austin and San Marcos. Since learning of the existence of an LGBT softball league in his backyard, Braden has been an extremely active member of our league both on and off the field. Upon arrival in the league, Braden joined the Austin Outlaws and was fortunate enough to play with some of the best friends and teammates anyone could ask for. The Outlaws had an incredible amount of success during their time with Braden being a vital part of multiple tournament wins, season championships, the 2015 GSWS national title, the 2016 GSWS Runner-Up, and a 9-month undefeated streak. Braden has been a part of multiple teams in our league or for out of town tournaments for teams including The Wreckers, Fusion, Rough Riders, Boston X-Factors, D-Bad, Dallas Demons, and many more. He's also coached the Shady Sisters along with lending a hand to several teams that have asked him for help over the seasons. Now a founding member of the Texas THOTs, he will be looking for new successes down the road. Braden's dedication doesn't only exist on the field of play. As his most monumental task, he took on the role of Operations Director for the 2016 Austin GSWS a mere 8 months before the first pitch was thrown. That extraordinary experience prompted him to become a more active member of the league and earn a seat on the Softball Austin board as the Competition Coordinator in 2017. Now done with his first board term, Braden will continue to focus on the various committees such he has been a member of for years as well as volunteer his time and effort to ensuring Softball Austin remains a great organization.
---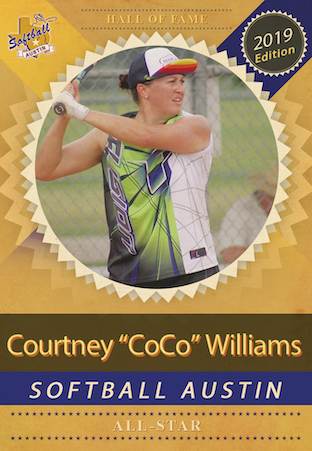 Courtney "CoCo" Williams - 2019
Courtney has been playing softball since 1989 and comes from a family bloodline of athletes that either played at the collegiate level or at the semi pro level. She moved to Austin in 2008 where she further broadened her softball talent. Her softball family know her as "CoCo" because Amy Torres, former Women's Softball Austin commissioner, was the first to start calling her CoCo and the name simply just stuck. Though she typically played short stop throughout high school, her inherent athleticism reveals her versatility as a pitcher or any position on the field. Her intimidating backspin is loved by many but can be hated by most.
In 2015, Courtney played with 2Legit (C division) and won the championship in the Women's World Series. Then in 2016, won 5th place with Fusion (C division) in the NAGAAA World Series. In 2017, won 1st place in the Bourbon Street Classic with Fusion (C division) Regional Series and won 1st place at the Houston Lone Star Classic where Courtney also received the MVP award. In addition, won the ASANA World Series Championship with Ultra (C division) and won 2nd place NAGAAA World Series with Fusion (C division). In 2018, won 1st place at the Houston Lone Star Classic with Fusion (C division) and was also recruited by the Hitmen (A division). Her continuous winning record speaks for itself.